Suspension And Steering Knuchles Parts-Z5020
Product Detail
Product Tags
Parts of a Steering Knuckle Assembly
Steering knuckles connect the steering and suspension components. As such, they contain sections to attach the parts and assemblies of both the suspension and steering systems. The wheel, too. Major steering knuckle parts include
Mounting surface for ball bearings or stub hole
Mounting for upper control arm in frame suspension and strut for MacPherson suspension type
Mounting for tie rod or steering arm
Mounting for ball joint or lower control arm
Points to attach brake calipers
The steering diagram above illustrates these parts. Note that the component can be different sizes and shapes. The version in your car may, therefore, be of a different look from that in in the diagram. The general layout remains the same, though, depending on the type of knuckle.
This steering knuckle is precision-engineered and rigorously tested to provide reliable replacement for the original knuckle on specific vehicles.
Direct replacement - this steering knuckle is designed to replace the original knuckle on specific vehicles
Reliable fit - precision-engineered to match the dimensions of original components
Trustworthy construction - manufactured to strict standards using durable materials
Rigorously tested - thorough quality control measures ensure longevity
What is a good quality steering knuckle?
When buying your replacement steering knuckle, you want the best quality. Also, one that suits your vehicle type and model. Consider these factors.
lMaterial
If weight is not an issue, a steel knuckle should do. Otherwise, you could benefit from the low weight of aluminum. Compact cars usually need lightweight components, while the ability to withstand damage is more desirable for heavy vehicles.
Compatibility
Steering knuckles are generally built to fit specific vehicles. As such, you should only choose what will suit your vehicle's requirements. Auto parts sellers can help you to select the right one. When buying online, have your car's information to search for the tight knuckle.
Installation Ease
Some knuckles are difficult to install while others can be mounted as a DIY task. The easy-to-install types include those that come already assembled. If considering to carry out the steering knuckle replacement yourself, choose the most appropriate type.
Type of finish
If you drive in harsh conditions, you would benefit from a properly protected knuckle. The component can have different finishes, which also vary across different manufacturers. The right one for your situation is essential to offer corrosion protection.
Application :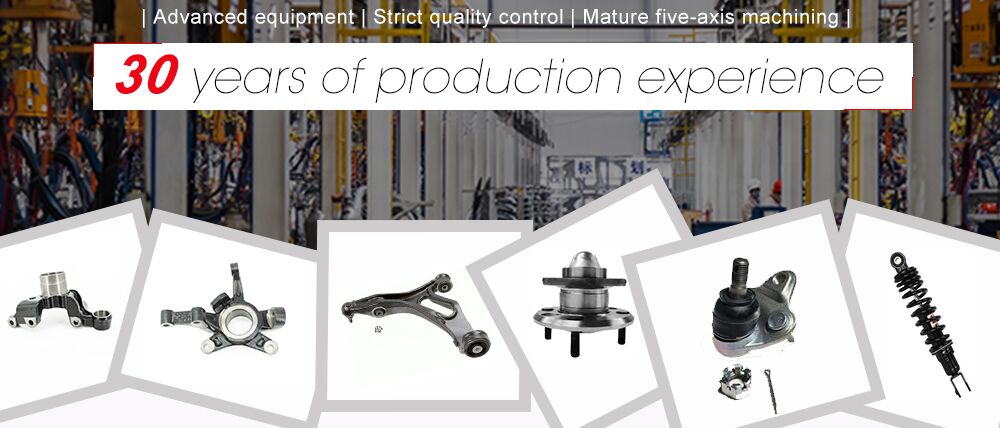 | | |
| --- | --- |
| Parameter | Content |
| Type | Shock absorber |
| OEM NO. |   |
| Size | OEM standard |
| Material | ---Cast steel---Cast-aluminum---Cast copper---Ductile iron |
| Color | Black |
| Brand |   |
| Warranty | 3years/50,000km |
| Certificate | ISO16949/IATF16949 |
---
---
Write your message here and send it to us
Products categories